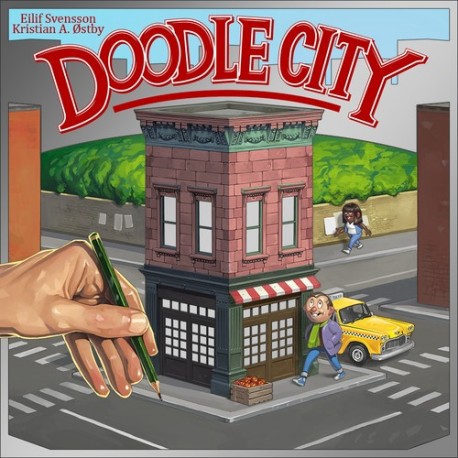 Vergrößern
Alle Bilder anzeigen
Produkt aus Ihren Favoriten entfernen
Produkt zu Ihren Favoriten hinzufügen
Doodle City
A new board game from Eilif Svensson and Kristian A. Østby (the creator of "Escape: The curse of the temple", "Mammut" and "Hotel Samoa").
Doodle City is a quick family game of city building.
By drawing a network of roads on their play sheet, players are building a city, trying to score points for their hotels, shops and taxis - all while avoiding pollution.
Working out an ideal road network can be quite the puzzle, and before the game begins, roads through parks are randomized, making sure no two games will be alike.
1-6 players, age 8+, playing time 20-30 minutes
Designed by Eilif Svensson and Kristian A. Østby
Languages: Rules in English / German / Norwegian (all material is language independent)
Sammeln Sie mit dem Kauf dieses Produktes Sie bis zu 1 Treuepunkte. Ihr Warenkorb hat insgesamt 1 Punkt die in einen Gutschein umgerechnet werden können im Wert von 0,20 €.