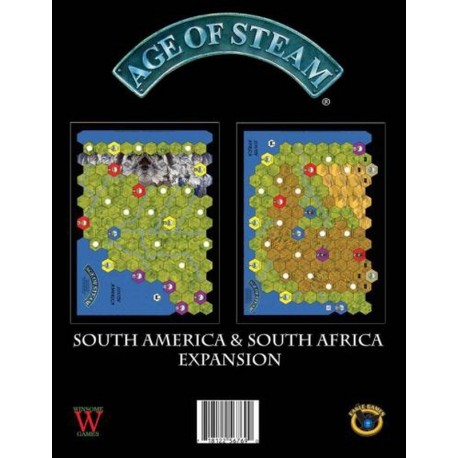 Vergrößern
Produkt aus Ihren Favoriten entfernen
Produkt zu Ihren Favoriten hinzufügen
Age of Steam South America
Age of SteamTM: South America South Africa is an exciting new expansion for the highly popular Age of Steam board game series.
The South Africa map features a new Urbanization action which allows a discount on track price. Angola and Rhodesia are hexes that only produce goods. Goods cannot end their movement or pass through these hexes.
The South America map features El Presidente!
The Turn Order Pass action has changed, and the player choosing this action becomes "El Presidente". When a shipped good starts from, passes through, or arrives at Buenos Aires, $1 must immediately be given to "El Presidente".
Game Components:
1 double sided map-board
Game Rules
Sammeln Sie mit dem Kauf dieses Produktes Sie bis zu 2 Treuepunkte. Ihr Warenkorb hat insgesamt 2 Punkte die in einen Gutschein umgerechnet werden können im Wert von 0,40 €.