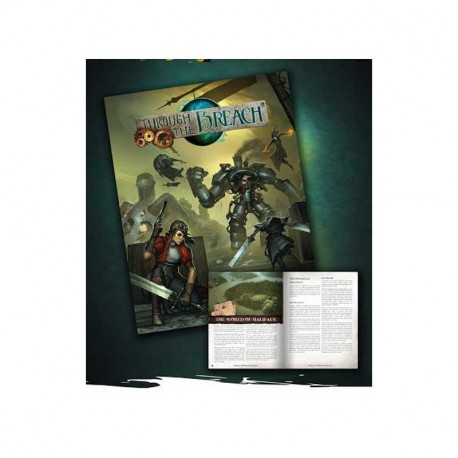 Vergrößern
Produkt aus Ihren Favoriten entfernen
Produkt zu Ihren Favoriten hinzufügen
Through the Breach Core Rulebook 2nd Ed
Through the Breach is a tabletop roleplaying game set in the world of Malifaux. The players take on the role of the Fated, men and women who have caught a brief glimpse of their destinies. This destiny is created alongside the Fated during character creation, and it affects every aspect of the character's life, from the day they were born and into the future. As the game progresses, the destinies of the Fated entwine, creating a campaign with a finite end. With each session, the character's final fate grows ever closer, and in the end, it is up to them whether they embrace their destiny or attempt to cheat fate out of its prize.
Through the Breach uses cards instead of dice to resolve conflicts, and each character has a hand of cards they can use to alter their destinies, changing failure into success and defeat into victory. Characters shift fluidly from one profession to the next as they meet the challenges of Malifaux head-on, and even the most naive Academic might find herself becoming a lethal Gunslinger, hardened Pioneer, or power-mad Dabbler with the right twist of fate.
Sammeln Sie mit dem Kauf dieses Produktes Sie bis zu 5 Treuepunkte. Ihr Warenkorb hat insgesamt 5 Punkte die in einen Gutschein umgerechnet werden können im Wert von 1,00 €.