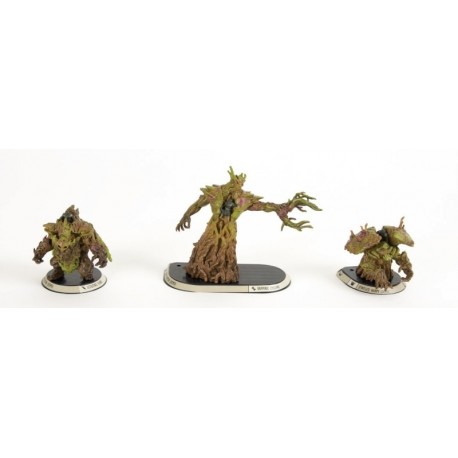 Vergrößern
Produkt aus Ihren Favoriten entfernen
Produkt zu Ihren Favoriten hinzufügen
Golem Arcana Zikia Figure Set 2
Three new Golems for your Golem Arcana Army. The Zikia Spirits of the Wildwood Expansion includes:
• The Creeper, a warsprite that can unleash deadly poison spores.
• The Thornbeast, an ogre that can dives and drops on enemies.
• The Fen Lord, a titan that pins down and entangles opponents.
Also included are three banner stands, three TDI Golem Cards (matching the figures), two double-sided Blessing and Curse tokens, and four new Relic Cards that can be used to augment any Golem army:
• The Tears of Dyati: used to create a small lake on the battlefield.
• The Shoot of Zardt: repels enemies from strategic terrain
• Kajit-Ura's Horn: instantly transports a friendly Golem into cover.
• Jaya's Gift: used to keep an ally out of harm's way.
Expansion. Requires Golem Arcana Base Game Set to play.
• Unlocks new options and abilities for your Golem Arcana army. New digital game pieces available in the Golem Arcana app can only be used with these Zikia Golems, incenting players to purchase them.
• New Relic Cards that can be carried into battle by any Golem, giving players new tactical options.
• There are dozens of Zikia tribes scattered across the world of Eretsu, fighting for all sides in the great conflict. Zikia Golems can be added to any Golem Arcana army.
Sammeln Sie mit dem Kauf dieses Produktes Sie bis zu 3 Treuepunkte. Ihr Warenkorb hat insgesamt 3 Punkte die in einen Gutschein umgerechnet werden können im Wert von 0,60 €.