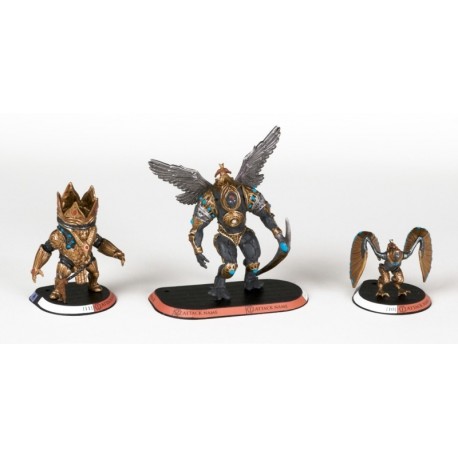 Vergrößern
Produkt aus Ihren Favoriten entfernen
Produkt zu Ihren Favoriten hinzufügen
Golem Arcana Durani Figure Set 1
Three new Golems for your Golem Arcana Army. The Durani: The Khan's Pyre Expansion includes:
The Jeweled Harpy, a warsprite that can buffet enemies acrossthe battlefield.

The Winged Preserver, a titan that wield an enormous scythe.

The Fire Ram, a ranged specialist that rains down Fiery Shrapnel.

Also included are three banner stands, three TDI Golem Cards (matching the figures), two double-sided Blessing and Curse tokens, and four new Relic Cards that can be used to augment any Golem army:

The Bulwark of Vajra: a portable defensive fortress.

Daku's Lens: a gem that temporarily extends a Golem's attacks out to a practically infinite range.

The Peridot of Hantra: a gem that temporarily allows any ranged attack to affect an entire cluster of targets.

The Idol of Preyas: a portable weapon that can be emplaced on the battlefield.
Sammeln Sie mit dem Kauf dieses Produktes Sie bis zu 3 Treuepunkte. Ihr Warenkorb hat insgesamt 3 Punkte die in einen Gutschein umgerechnet werden können im Wert von 0,60 €.