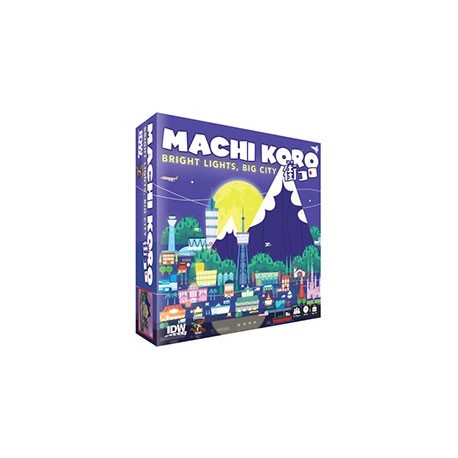 Vergrößern
Produkt aus Ihren Favoriten entfernen
Produkt zu Ihren Favoriten hinzufügen
Machi Koro Bright Lights Big City
Welcome back to Machi Koro, the card game that is sweeping the world!
Greetings, Mayor of Machi Koro! Your influence has led to explosive growth in this once sleepy town. Skyscrapers pockmark the land and nightlife is booming--—literally. Our little Machi Koro…the City that Never Sleeps?! One day, perhaps.
For our mayors, Machi Koro: Bright Lights, Big City is a profoundly different beast and not just in terms of expensive tastes! Get ready for a whole new twist on Machi Koro. New cards, new rules and a whole new way to play ensure no two games will ever be the same.
Machi Koro: Bright Lights, Big City is a fun twist on the smash hit Machi Koro and a must have for new and experienced mayors alike! Are you up for the challenge? Get ready to see Machi Koro in a whole new light!
Game design by Masao Suganuma
Artwork by Noboru Hotta
Contents:
35 starting landmark cards
10 starting establishment cards
25 major establishment cards
132 establishment cards
78 coins
3 six-sided dice
1 rulebook
Sammeln Sie mit dem Kauf dieses Produktes Sie bis zu 3 Treuepunkte. Ihr Warenkorb hat insgesamt 3 Punkte die in einen Gutschein umgerechnet werden können im Wert von 0,60 €.